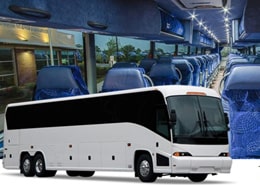 Are you tasked with arranging transportation for a large group of people and considering chartering a coach bus? Whether you're planning an outing for your extended family, running a personal or a corporate event, or organizing a class trip, our 56 passengers luxury coach buses with rest room in it are the perfect solution to all of your transportation-related needs.
AT YOUR SERVICE
At Way To Go Limousine, Inc, we maintain a fleet of comfortable coach buses. No matter what your destination might be, we pledge to get you there promptly and safely. Think of us for all of your group transportation needs, including:
Sightseeing charters & tours
Group airport transfers
Outlet excursions
Corporate parties or retreats
School trips or sports team outings
At Way To Go Limousine, Inc, our goal is to provide the reliable charter bus services you need. Call now for more information about our rates or to discuss your scheduling options.